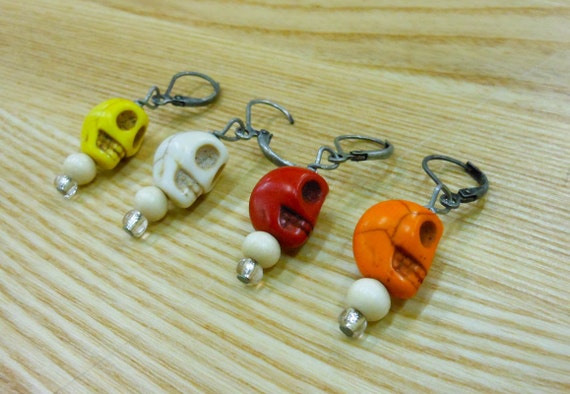 I just had to share my new crochet stitch markers with everyone. I bought them on Etsy from
Hooray Crochet
and am absolutely in love with them! I had been in need of stitch markers for a long time (I had been using paper clips) but I really didn't want to buy markers that I didn't love! I'm one of those people who likes everything little thing to be cool. If I don't love something, if it doesn't make me smile, there is not a heck of a lot of reason to own it. Speaking of which I'm on the look out for a cool teapot if anyone has any ideas...
Also!
Hubby and I have been together since we were teenagers and once, while at the mall, 16-year-old hubby with cash to burn bought this big fluffy red circle pillow for no apparent reason.
Now, I try not to be the wife who tells her husband what he can and cannot own, and he was oddly attatched to this pillow. But, I also spend a lot more time in our house than he does since I work at home and this thing was an eye sore in the eclectic brown and blue tones of our bedroom. So...I hooked the crap out of it and made it pretty.
I didn't use a pattern for this but if your even a little familiar with your crochet hook this is an easy project to pull off, and honestly if you don't even own one yet you could watch a couple youtube videos on how to cast on and do the puff stitch and you'd be golden. I just used leftover yarn from my stash and a matching hook. If you have the pillow you're covering on hand you can just keep checking to make sure that you're on thr right track.
It's simply a round of single crochet, then half double, then single again to create that textured look on the top. Then I alternated puff stitch and single crochet around the sides for what I hope is a Morroccan feel. I used a hook that was a little small for the yarn so that my stitch was really tight as I didn't want the red to show through, but you could also line the case when you're done. I overlaped the top and bottom layers so that the pillow can be pulled out to wash the cover and there are no buttons are zippers to unepectedly poke at you when you're trying to nap.
This would be a very rewarding and only somewhat challening project for a beginner. I hope it inspires someone to de-ugly something their partner won't get rid of!
May the craft be with you!